In various cultures, specific accessories hold profound symbolic value for brides. In the rich tapestry of Indian traditions, a bride's ensemble is laden with meaning and portrays her newfound status as a married woman.
India, with its diverse traditions and customs, boasts an array of unique wedding attires, each uniquely representing the bride's special day.
So, what can you expect as a Marathi bride on your wedding day? Lets take a look at various ornaments that make a Maharashtrian bride's look complete!
Bridal Saaḏee
Also called the "Saree" around the world, the Saaḏee (in Marathi) is the classic  OOTD for a Maharashtrian bride. It can be a nine yards one, called Naoo-vaari (Naoo – Nine, Vaari – Yards) or a Six Yards one. The ceremonial Saaḏee is generally yellow in colour, however, it may differ as per family traditions.

Koonku/Ticklee
The Tiklee, also known as "Bindi" in other parts of India, is a red coloured dot applied on the forehead. It is applied along with vermilion powder (Koonku), and turmeric powder (Haldi) on the forehead serves as an auspicious sign of marriage. As the bride steps over the threshold of her new home, her red ticklee is believed to usher in prosperity and grant her a place as the family's newest guardian.
In today's world, the Ticklee has evolved into a fashion accessory and is available in various shapes, sizes, and colours.
Mangalsutra
Made of black beads and gold, the Mangalsutra is a sacred necklace that symbolises the new bond of matrimony. Just as a western groom puts the ring on his bride, in the same way the Maharashtrian groom ties the Mangalsutra around the bride's neck.
The significance of this ornament can be seen in the meaning of the word Mangalsutra – "Mangal" meaning auspicious, and "Sutra" meaning thread or cord.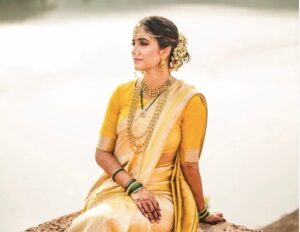 Mundavalya
A "Mundavali" (plural: Mundavalyaa) is a traditional headpiece or headband worn by Marathi brides as part of their wedding attire. Made of pearls and gold, and adorned with intricate designs such as including motifs, gemstones, and other decorative elements it symbolizes the bride's auspicious and sacred journey into married life. The Mundavali enhances the bride's beauty and adds an elegant and regal touch to her bridal look.
Nath
The Nath is a traditional Marathi nose ring, usually studded with pearls and  gemstones, worn on the bride's left nostril. The Maharashtrian Nath is very distinctive in appearance and is easily recognisable as a quintessential Maharashtrian ornament.
Kanatley (Earrings)
Made of gold and encrusted with precious stones, Kanatley or earrings are often paired with a matching necklace. The literal meaning of the word Kanatley is – the ones on the ear.

Mehendi
A few days before the wedding day, intricate henna designs are applied to the bride's hands and feet during the Haldi ceremony. Applying henna on weddings is an age-old tradition, without which the wedding look remains incomplete. It is traditionally an all female event, where other women and girls attending the Haldi ceremony often choose to apply Mehendi on their hands as well.
Bangdya
Bangdee (Plural: Bangdyaa) refers to bangles worn on the hand. Brides wear green glass bangles in odd numbers along with thin gold bangles called paaṯlyaa, and thick gold bangles called toḏey.

Painjan (Anklets)
Painjan(Payal) or anklets are traditionally made of metals such as silver and gold, an
d are adorned with small bells and charms. They jingle with each step, creating a musical and rhythmic sound often associated with grace and femininity.

Jodavee (Toe rings)
"Jodavee" are Toe rings, traditionally made of silver, and worn in pairs, on the second toe of each foot. The ornate designs, have evolved over the years into more contemporary designs that cater to the modern bride.
A Marathi bride's ensemble serves a cultural and aesthetic purpose. It symbolises her transition to married life, enhances her beauty and grace, and protects her from negative forces. These traditional accessories, cherished in Marathi culture for generations continue to play a significant role in Marathi weddings.
We hope this short outline has helped you better understand what you need as a Marathi bride on your big day!