"ailama pailama ganesh deva, maza khel maandun de, karin tujhi seva .."
It's the first day of Bhondla, and all the young girls in the neighbourhood have excitedly gathered, ready to start celebrating. An elephant has been drawn on a slate, and the singing and dancing has begun! 
A traditional Maharashtrian festival, Bhondla is thought to have originated as a way for married young women to take a break from their in-laws for a few days. Back when brides were usually young girls, it became important for them to return to their parents whenever possible. 
Old traditions
Bhondla, also known as hadga or bhulabai in different parts of Maharashtra, starts on the first day of Navaratri and continues till Kojagiri Purnima. In older days, young girls would get together everyday, each day at a different home, to celebrate and make merry. Girls dance around a picture of an elephant, which is drawn on a slate or with rangoli. 
The songs associated with Bhondla are mischievous and light hearted in nature, usually poking fun at mothers in-law. They used to serve as a relief for married women, who would often be harshly treated at their husband's home. At the end of the day, there is a khirapat, which is generally a snack or sweet cooked as prasad. The final game is to guess what is in the day's khirapat.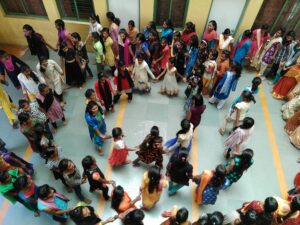 What it means for newer generations
Up until a few years ago, Bhondla was a yearly ritual religiously celebrated at homes throughout Maharashtra, even after women stopped being married off at such a young age. Now, it is a rare sight to find girls celebrating all of its days. Some choose to keep the tradition alive by arranging a gathering on any one of the days. The songs and messages of Bhondla haven't stood the test of time, and are no longer relatable for today's women. Now, it is simply a reason for communities, who are away from home, to come together and celebrate a common culture. 
Bhondla originally began to provide solace to young women married off early, but the reasoning does not hold true anymore. Perhaps as a newer generation of Maharashtrians, we can make it relatable to us and our lives as they are today.